SPECIAL OFFER - ENDS 31st DECEMBER 2023
7 FREE UPGRADES 1: Composite Decking. 2: Acoustic Insulation. 3: 1.5Kw Glass Panel Heater. 4: External Double RCD Socket. 5: External LED Lights. 6: Aluminium Sockets & Switches. 7: 100 Litre Water Butt. + £200.00 Discount For Showroom Visitors.
Eco Composite Garden Rooms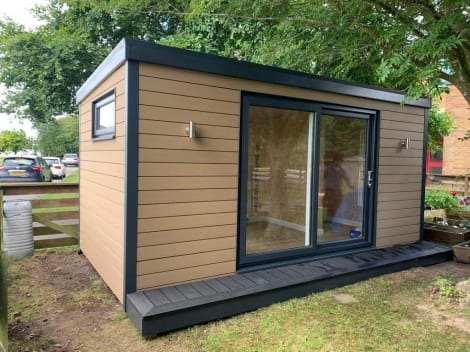 Elevate your outdoor living with our cutting-edge Eco Garden Room - a modern cuboid masterpiece designed to harmonize with your natural surroundings. This architectural gem is clad in composite materials that not only exude contemporary elegance but also offer unparalleled durability against the elements.
From £16914Details
Edge Composite Garden Rooms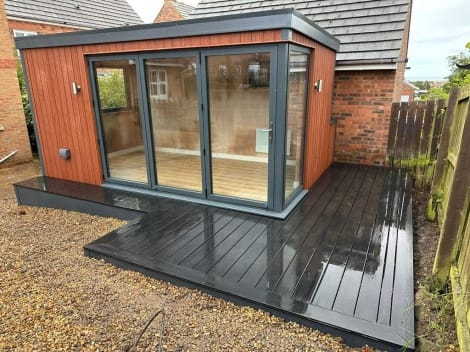 Step into a world of modern elegance with our Edge Garden Room - a visionary space that redefines outdoor living. With a unique glass corner design seamlessly integrated with sliding glass doors, it offers an unparalleled panoramic view that blurs the lines between the inside and outside.
From £17574Details
Extend Composite Garden Rooms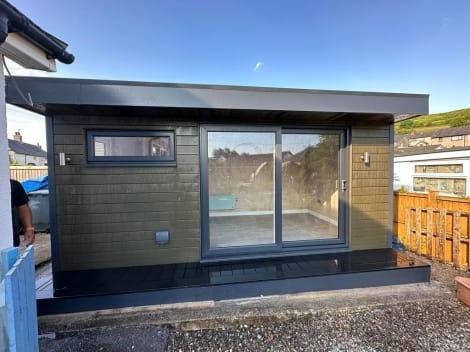 Discover the epitome of outdoor luxury with our Extend Garden Room, a testament to elegance and functionality. This architectural masterpiece features a 0.5m projecting roof canopy that extends gracefully along the entire front, creating a captivating blend of indoor and outdoor living.
From £17454Details
Extend Edge Composite Garden Rooms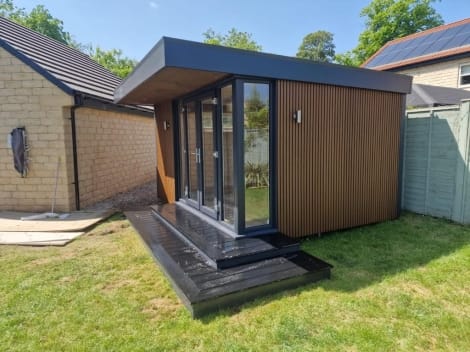 Upgrade your outdoor living to a whole new level of sophistication with our Extend Edge Garden Room. This exceptional design combines the best of both worlds, seamlessly merging the innovative glass corner section with a 0.5m projecting roof canopy that extends gracefully along the entire front of the building.
From £18114Details
Enclose Composite Garden Rooms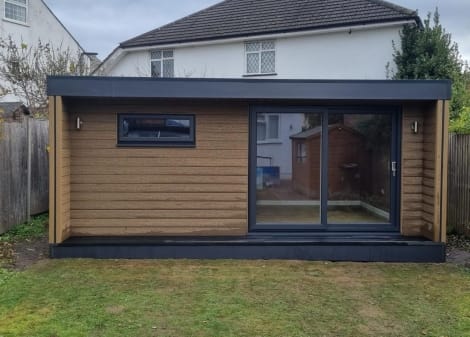 Experience the ultimate in outdoor living with our Enclose Garden Room, a masterpiece that brings the outdoors in while providing a cozy, sheltered haven. This exceptional design features not only a 0.5m projecting roof canopy but also 0.5m projecting side walls that enclose the entire front of the building.
From £17994Details
Composite Garden Annexes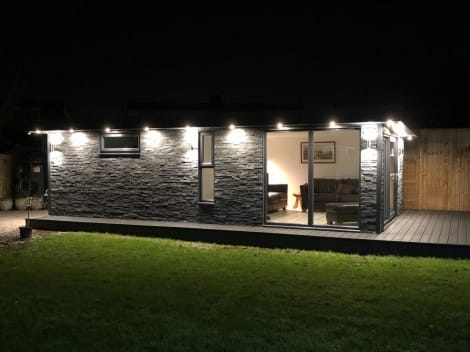 Transform your garden into a haven for family togetherness with our fully-contained garden annex. This isn't just a structure; it's a beautiful way to bring generations closer. Imagine having your loved one just steps away, in a space equipped with all the comforts of home.
From £69834Details
Composite Garden Lodges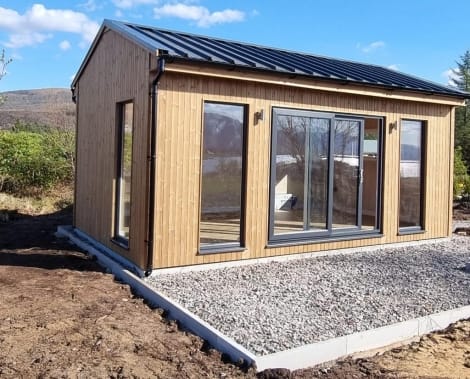 A fully insulated, high-quality apex roof garden lodge, the epitome of luxury and comfort in your own garden!. Imagine a serene retreat where you can escape the hustle and bustle of daily life, right in your own garden. A garden lodge offers the perfect blend of sophistication and relaxation.
From £20298Details
Composite Garden Pods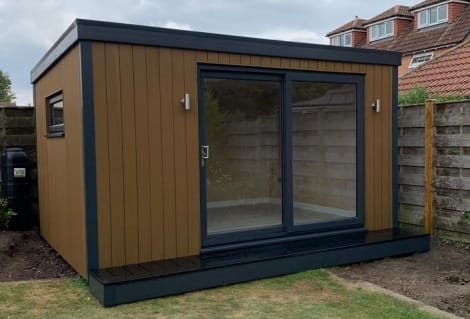 Introducing our cost-effective garden pod, a smart addition to our product lineup. Built using carefully selected value-engineered materials that are distinct from our main garden room range, this pod offers high-quality garden space without any optional extras.
From £12834Details
Composite Garden Sheds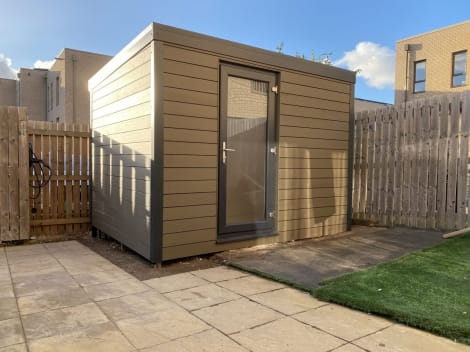 Elevate your outdoor storage space with the perfect addition: a fully insulated, damp-proof, mould-free, and secure superior garden shed. This investment offers not just a storage solution, but a world of possibilities.Imagine a garden shed that defies the elements, keeping your belongings safe and dry year-round.
From £4554Details
Composite Soundproof Garden Rooms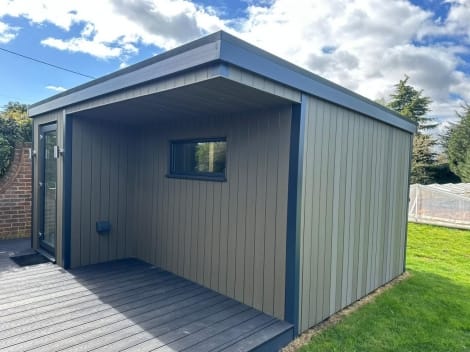 Unlock the full potential of your musical journey with the allure of a soundproof music room. This dedicated space is where your musical aspirations come to life, allowing you to immerse yourself fully in the world of melody, rhythm, and emotion. Let the music flow freely in your life with a soundproof garden room.
From £34314Details
Latest Composite Garden Room Installations
5m x 3m Extend Composite Garden Room Gallery No 018 Location Surrey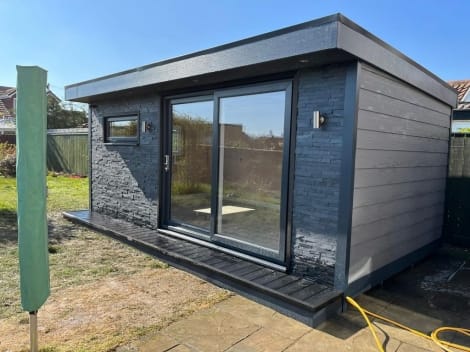 SurreyMore Info
4m x 2.5m Eco Garden Pod Gallery No 42 Location Cumbria Location Cumbria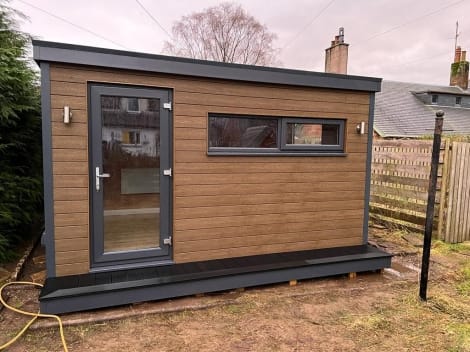 CumbriaMore Info
Introducing The Perfect Garden Oasis!
Are you yearning for more space to work, relax, or entertain? Imagine having your own versatile sanctuary right in your own garden. A place where you can escape, create, or simply unwind. Look no further, because CompositeGardenRooms.co.uk, have the solution you've been dreaming of:
Why Choose Our Composite Garden Rooms?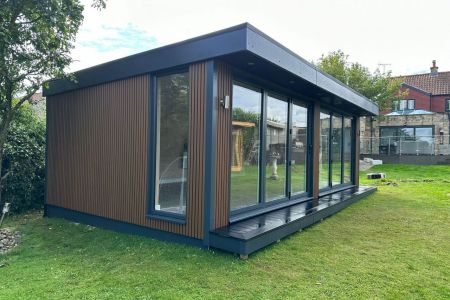 Elegant Outdoor Living: Our composite clad garden rooms are the epitome of elegance and functionality. Crafted from premium composite materials with ultra high Specifications, they seamlessly blend into your garden, enhancing the aesthetics of your outdoor space.
Year-Round Comfort: With high quality built-in insulation, a plaster boarded and plastered interior finish and double-glazed windows, you can enjoy your garden room throughout the seasons. Say goodbye to weather-related limitations and hello to a cosy haven, whether it's a scorching summer day or a chilly winter evening.
Durability: Composite materials, typically a blend of wood fibres and plastic, are engineered to resist common issues that afflict traditional wood structures. This includes resistance to rot, decay, termites, and fungal growth.
Composite materials used in garden room construction are engineered to withstand the harshest outdoor conditions. They are highly resistant to moisture, which means they won't swell, warp, or crack when exposed to rain or humidity. Additionally, these materials have excellent UV resistance, preventing them from fading or deteriorating when exposed to sunlight.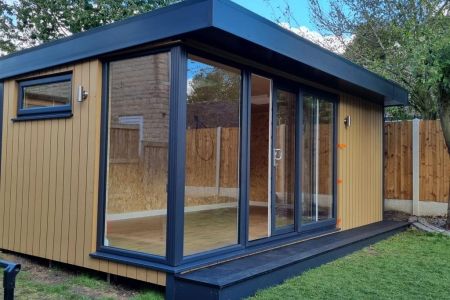 Low Maintenance:Our premium composite clad garden rooms are designed for hassle-free living. A quick clean now and then is all they need to maintain their pristine appearance. Our composite clad garden rooms require virtually zero maintenance. Unlike wooden clad garden structures, they do not need regular staining, painting, or sealing to maintain their appearance and structural integrity. Routine cleaning is as straightforward as using soapy water and a soft brush or sponge. The low-maintenance nature of composite clad garden rooms stems from the materials' resistance to stains, moulds, and mildew. Unlike wood, which requires regular refinishing to maintain its appearance, composite materials maintain their original look with minimal effort. You can avoid the labour-intensive tasks associated with wood maintenance, such as sanding, staining, and sealing, saving you time and money.
Weatherproof Design: Rain or shine, our composite clad garden rooms stand strong. They resist moisture, UV damage, rot, and termites, ensuring that your investment lasts for years to come. Composite materials are specifically designed to withstand harsh weather conditions. They are highly resistant to moisture, which helps prevent swelling or warping-resistant coatings protect the surface from sun damage, ensuring that the garden room retains its colour and finish over a long time.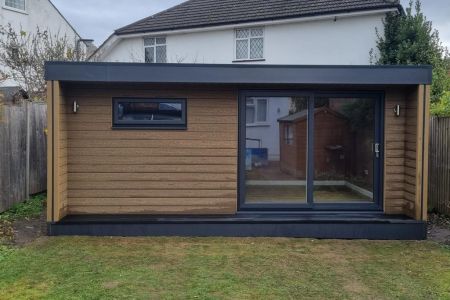 Insulation & Energy Efficiency: Our range of composite clad garden rooms come with high levels of built-in insulation, which is crucial for year-round use. This insulation helps maintain a comfortable interior temperature during both hot summers and cold winters. This energy efficiency can save on heating and cooling costs and allows you to enjoy the space throughout the year. The garden room insulation levels are designed to provide a comfortable interior environment throughout the year. The high quality Knauf and Kingspan insulation used in our construction helps regulate temperature, reducing the need for excessive heating or cooling. This can result in energy savings and a more sustainable living space, contributing to a smaller carbon footprint.
Total Customization: Express your personal style with a wide range of exterior finishes, colours, and design options. Create a space that reflects your unique taste and suits your intended use, whether it's a home office, art studio, gym, relaxation retreat or even a Soundproof Garden Room. Composite clad garden rooms can be tailored to your specific needs and aesthetic preferences. You can choose from a variety of garden room designs including our Eco, Edge, Extend, Extend Edge, Enclose, and Lodge, designs . exterior finishes including , colours, and textures to complement your garden or home's style. Interior customization options include lighting, flooring, and wall finishes, allowing you to create a space that reflects your personal taste and intended use.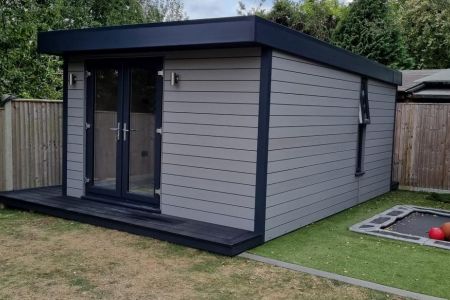 Eco-Friendly: Our Composite Cladding Materials incorporate recycled content, reducing environmental impact. Plus, their long lifespan means fewer replacements and less waste.
Our composite materials incorporate recycled hardwood fibres and plastics, making them environmentally friendly options. These materials divert waste from landfills and reduce the need for virgin resources. Additionally, the durability of our composite clad garden rooms means fewer replacements and less waste over the long term.
Quick Installation Around The UK: We understand your eagerness to enjoy your new space. Our modular designs and efficient installation processes mean you'll be relaxing in your garden room or Garden Pod, in no time.
Our composite clad garden rooms are hand built on site by professional installers, all around the UK, typically within 5-7 days. Our construction process minimizes disruption to your garden. A faster installation means you can start using your new space sooner.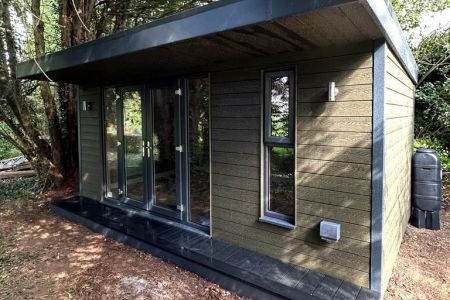 Versatility: Composite clad garden rooms can serve a wide range of purposes. They are ideal for creating a home office, art studio, gym, or relaxation space. We can even supply a range of Garden Annexes, for permanent living or guest accommodations. Their adaptability ensures that your outdoor space can evolve with your changing needs and interests. Composite clad garden rooms or our range of Garden Sheds, are highly adaptable to your working or leisure needs and preferences. The interior layout can be customised to suit your specific purposes. From home offices and studios to gyms and relaxation spaces, the design can be tailored to create a functional and personalized environment. As your needs evolve, the space can be reconfigured to accommodate changes.
Increased Property Value: Boost your home's resale value with an attractive and functional outdoor space. Potential buyers will be drawn to the allure of your garden room. Well-designed and functional outdoor spaces, like composite clad garden rooms, can enhance the overall appeal and value of your property. They provide an attractive feature that may attract potential buyers when you decide to sell. Composite clad garden rooms can add a unique selling point to your property. The extra living space and versatility they offer can make your property stand out in a competitive real estate market. Potential buyers may be attracted to the idea of having a dedicated outdoor living area, boosting the perceived value of your home.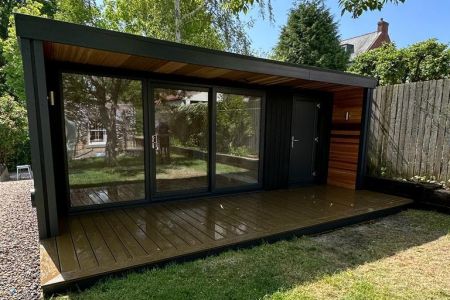 Enhanced Aesthetics: Composite clad garden rooms or Stone Composite, garden rooms have a sleek and modern appearance with clean lines. This contemporary design can complement various architectural styles, adding an element of sophistication to your garden.
You can further enhance aesthetics by selecting architectural features like internal and external LED lighting, internal partition walls, composite decking, sliding or patio glass doors, large windows, corner glass windows to maximize natural light and views.
A Range Of Colour Options: A composite clad garden room offer a wide range of design possibilities. The Woodgrain Composite Cladding can replicate the appearance of natural wood, offering the warmth and charm of timber without the downsides.
These materials are available in various finishes, textures, and colours, allowing you to select a style that harmonizes with your existing outdoor space and architecture. Whether you prefer the appeal of Smooth Composite Cladding smooth composite cladding, a Woodgrain Fibre Cement Cladding or our brand new Slatted Composite Cladding, there's a zero-maintenance composite clad garden room design to suit your taste.
Transform Your Outdoor Lifestyle Today!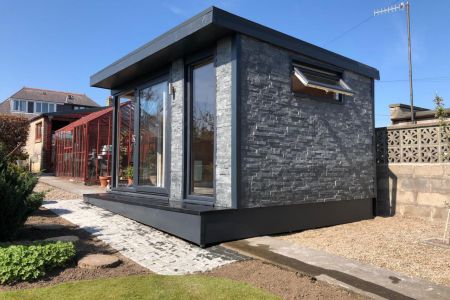 Say goodbye to cramped interiors and hello to the boundless possibilities of your very own composite clad garden room. Whether you're seeking tranquillity, productivity, or a space to entertain, we have the perfect solution for you.
Contact us now to discuss how to Order your dream garden room and embark on a journey to redefine your outdoor living experience. Enjoy your garden like never before with a composite clad garden room that's as unique as you are.
When you choose our composite clad garden rooms, you're not just investing in a structure; you're investing in a lifestyle. Act now, and you'll enjoy these exclusive benefits:
Garden Room Finance:
We offer competitive financing options to make your dream garden room more accessible than ever.
Professional Design Consultation:
Our experts will work closely with you to create a garden room that perfectly suits your needs and vision.
Efficient Delivery:
Our streamlined delivery process ensures that your garden room arrives promptly and is installed in pristine condition.
Peace of Mind:
Rest easy with our
10 Year Structural Guarantee
, protecting your investment and giving you confidence in its longevity.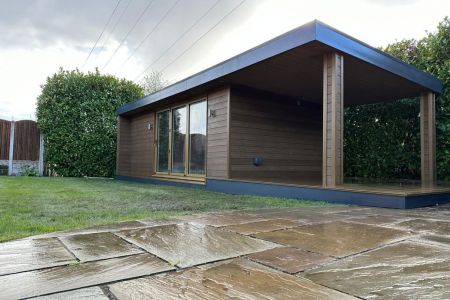 Permitted Development: Most garden rooms fall under the category of "permitted development" in planning regulations and planning permission.
This means that they do not normally require planning permission, making the build process simpler and quicker compared to more extensive construction projects.
Garden rooms and outbuildings are considered to be permitted development, not needing planning permission, subject to a few limits and conditions. You can read all about the limitations on our Garden Room Planning Pemission, section.
All our composite garden buildings have been specifically designed and installed on-site to comply with the current permitted development rules and building regulation requirements.Garden Rooms and buildings, up to 30 square metres, are exempt from building regulations.
We have a wealth of knowledge and experience with the current planning and permitted development rules, so feel free to give us a call and we can explain the rules and regulations in detail if required.
Experience the Joy of Owning A Composite Garden Room!
Composite clad garden rooms offer a host of advantages, including longevity, low maintenance, weather resistance, customization options, eco-friendliness, quick installation, versatility, increased property value, and an appealing modern design. These benefits make them a practical and stylish addition to outdoor spaces, providing a wide range of possibilities for homeowners to enjoy their gardens or backyards more fully.
Transform your garden into a haven of relaxation, creativity, and inspiration. Composite clad garden rooms offer the perfect balance of style, comfort, and durability. Don't wait any longer to elevate your outdoor lifestyle. Contact Us today to schedule a consultation or visit our indoor Garden Room Showroom and take the first step toward owning your very own composite clad garden room.
With composite clad garden rooms, the possibilities are endless, and the luxury is yours to enjoy. Experience the magic of seamless indoor-outdoor living and create unforgettable moments in your own garden. Visit our Photo Gallery to explore our stunning designs, take a moment to read our Frequently Asked Questions and request our full colour brochure. Alternatively call us FREE today to speak with our friendly experts or arrange a FREE Site Survey, and begin your journey to a more enriching outdoor lifestyle.